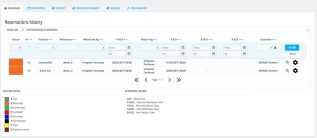 We are continually improving our products and services rental module.
We keep evolving it to match the highest quality standards and user experience.
In addition to a lot of small fixes, this new version brings  its share of features :
– Payment integration :
Let your customers pay online ! Once properly set, our module integrate itself to the Prestashop payment process, ensuring you a significant rise of online booking!
– A new administration interface :
Our module got itself a new skin ! Using Bootrap and PrestUI libraries , we evolved the administration UI in order to make it fit perfectly within Prestashop and offer a nice user experience.
– Module Internationalisation :
Our module is  now provided in english and french . You wish to add more langages ? No problems ! You can get it translated using the Prestashop administration interface
– A better handling of your agencies hours :
In addition of setting up opening and closing hours for your agencies, you can define for them an exceptional schedule :
Holidays hours, closure …
– Fixes and optimisations :
We made a lot fixes, code optimisation and refactoring. We also reviewed and optimized our code to match the quality standards in effect :
The code has been reviewed with security in mind.(Mesures against code injection :  XSS, CSRF, SQL)
Our code has been formated relative to the PSR-2 ensuring its clarity and readability.
You can learn more about it  by watching this video :